The latest trend in WordPress is Magazine theme, where articles are displayed in grid layout. This makes it easy to publish news of different categories in an easy to read layout. Here are some good themes which have in build magazine layout and will give you many other goodies as well.
1.    SUFFUSION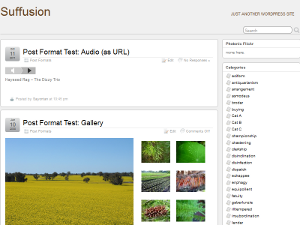 Suffusion by Sayontan Sinha scores very high on the customization scale. There are literally tons and tons of options which might overwhelm you at first, but will grow on you and make it an enjoyable experience.
This responsive theme has Mega Menus, featured slider, tabbed sidebar, 19 widget areas, one – two – three column layout with fixed, fluid and responsive options. Infact, this theme is packed with so many features, its impossible to list them all here. But suffice to say it is a tweakers delight, and at the same time the default options work just fine. There is the default blog layout and magazine layout which can be activated at the same time. Detailed help is available at http://www.aquiod.com/forums. This theme has just hit the 1,000,000 downloads mark at wordpress.org and has a rating of 4.8 out of 5.
2.     MESOCOLUMN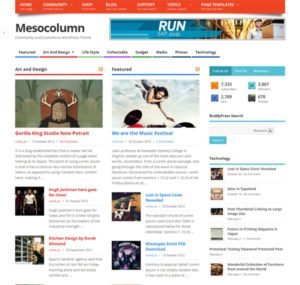 Built for a magazine layout, this free theme is unbelievable. Responsive HTML5 and CSS3 theme, it supports BuddyPress, WooCommerce and BBpress. Responsive layout will make sure that your website look good on browsers and devices of all types. The theme also has a built in slider to showcase your featured content.
With 71,000 plus downloads on wordpress.org, its a tad lower on the popularity front, but with a 5 out of 5 rating, you are spot on with this theme.
3.     EXPOUND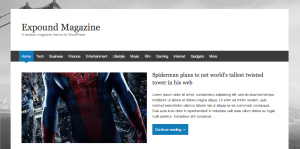 This simple yet elegant theme will impress you by its simplicity. A magazine style default layout for your blog, the theme features a clean and minimalistic design. Responsive layout, Two column setup, right side bar and all the basic goodies. Of course, you can increase your options with widgets and plugins, for your own levels of customisation. Downloads of 247,519 on wordpress.org and 4.8 out of 5 ratings, this theme is the best showcase of a simple WordPress blog.
4.     HUEMAN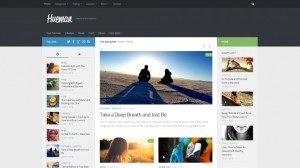 Hugely popular, Hueman is a WordPress theme for magazine layout. It is a 100% responsive theme packed with features like toggle sidebars, upto two sidebars, both left and right, a top bar, slider, widgets, featured columns and much more. With a flat look and cleverly crafted CSS ensures very less stuff to load and hence faster load times for your website. This theme has over 200,000 plus downloads on wordpress.org and 5 out of 5 stars rating.
5.     TWENTY FOURTEEN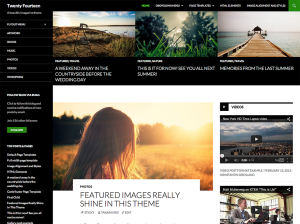 Twenty Fourteen is the default theme for WordPress for the year 2014. The trend is magazine layout and WordPress is right there setting it up for us. Special features include a contributors page to show off your authors, grid or slider layout, responsive with modern design, three widget areas and so on.
200,000 plus downloads and 4.2 out out 5 stars, this theme will live up to the expectations of 2014.
NOTE : All links are from https://wordpress.org and images from respective theme pages.