Microsoft recently announced that Windows 10 will be available as a free upgrade to all. After OS X Mountain Lion became the last Operating System 'sold' by Apple Inc, we all wondered how long will we buy Windows OS. With Terry Myerson describing Windows As A Service, this dream now appears to be a reality.
Microsoft has dropped one version to go straight from Windows 8 to Windows 10. With Mac PC and their lineup of portable devices in full gallop, and with Android powered devices displacing PC sales, Microsoft has to be worried. After the failed venture of Windows 8, Microsoft has acknowledged that the real strength and fan following lies with the Desktop Users, and rightly so the focus is now back on the desktop. Looks like this time, Microsoft is ticking all the right boxes.
So giving a free upgrade to all users of Windows OS, any version is a step in the right direction for Microsoft.
The Announcement
First on Jan 21 and then again on March 17, 2015, Terry Myerson announced on Windows Blog that Windows 10 will be available for a free upgrade to all users of previous versions of Windows OS.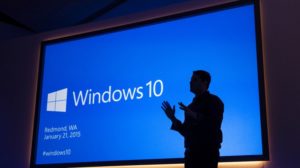 http://blogs.windows.com/bloggingwindows/2015/01/21/the-next-generation-of-windows-windows-10/
http://blogs.windows.com/bloggingwindows/2015/03/17/windows-10-launching-this-summer-in-190-countries-and-111-languages/
Eligibility Conditions
The free upgrade will be available for only one year. Any version of windows can be upgraded provided you meet the hardware requirements. It is expected that there will be no questions asked about the source of procurement of your current version of Windows, but once upgraded, it will be a legit version of Windows 10. This blanket amnesty might cover even the corporate customers.
The Meaning
Hardware requirements will not be stringent, since Microsoft knows that the reason most users wont upgrade is because of the increased hardware requirements. Users have to upgrade within one year. Support for Windows 10 will be for the lifetime of the device on which it is installed. Users will have to use some means of linking the identity of the user with a particular device with a serial number. A email ID and Serial Key appears to be a good enough combo.
Benefit For Microsoft
Such a social experiment was tried on users of Windows 7 and earlier versions by offering a discounted upgrade to Windows 8. The cost of upgrade was about 10 percent of the actual cost of Windows 8. Many users have rumoured to used this opportunity to obtain a licensed version of Windows. Users who are never going to pay for a licensed version of Windows OS might pay for the apps. Microsoft will also partner with Hardware Manufactures across the globe to roll out the free upgrade. This will tend to spark a renewed interest in Windows and its hardware.
This is a true blue offer from Microsoft. If this experiment succeeds, then future versions of Windows will be a free product. And then maybe Microsoft will be able to fire up the imaginations of users once again.
All Images are from Windows Blog. Copyright Microsoft.