Masked Aadhaar is a new initiative by UIDAI. It enables downloading of the soft copy of your Aadhaar card with first 8 digits masked and last four digits visible. Rest all details will be visible as earlier, with only the number hidden. This will take care of the privacy concerns voiced by people while sharing their Aadhaar card for any kind of verification.
Privacy concerns of Aadhaar
Aadhaar has no doubt eased a lot of mundane manual transactions. But privacy concerns are raised time and again by citizen whose data is stored on the government data servers. Aadhaar numbers are now linked with bank accounts, mobile numbers, tax department and the list is growing. Aadhaar is also used to pass on subsidies directly to the beneficiaries. UIDAI, the organization that manages your Aadhaar data is proactively covering security concerns. Latest initiative by them is the masked aadhaar. You can see the details here.
https://www.uidai.gov.in/283-faqs/aadhaar-online-services/e-aadhaar/1887-what-is-masked-aadhaar.html
Steps to download your copy of masked aadhaar
Go to the link below to download the copy of your Aadhaar.
https://eaadhaar.uidai.gov.in/#/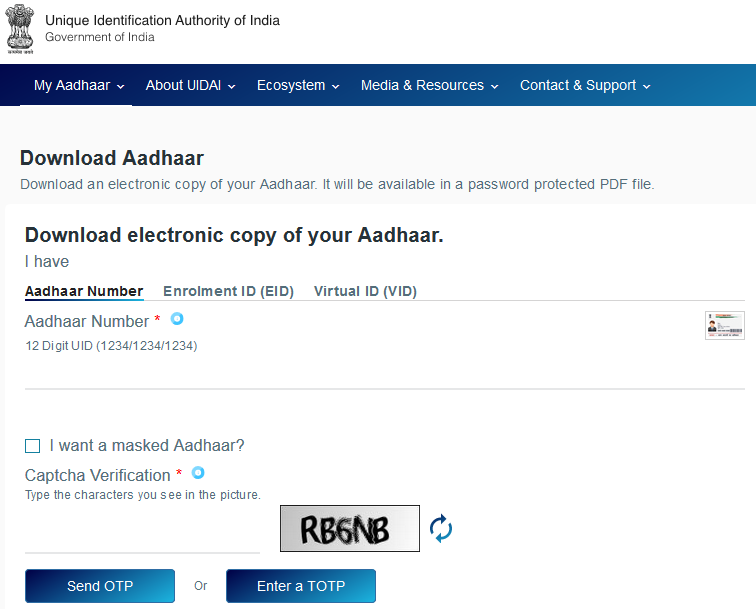 If you want your aadhaar number to be masked, tick on the box marked. After the OTP verification, you can download your aadhaar.