The death of the digital camera has already been sounded by the Smart Phone. But that has not stopped the Camera Companies from launching newer models every year. But the writing on the wall is clear. Manufacturers of Digital Cameras have on the other hand decided to go all out on one critical fact that due to the space restrictions in a smartphone, it can never replace a camera. Today we look at a popular mid range Point and Shoot Camera Sony Cyber-shot DSC-W830.
Please note, this post has affiliate links.
USP of Sony Cyber-shot DSC-W830
A simple point and shoot should be small in size and easy to carry. It should be lightweight and light on the pocket. Though no one minds carrying extra batteries, but a pocket digital camera should last a whole day on a single charge. And of course, it should take great photographs.
Literally speaking Sony Cyber-shot DSC-W830 fits all of the above and hence looks like we have got a winner on hands.
A few specs of DSC – W830
20.1 MP CCD sensor – more pixels
Zeiss lens – a good industry standard
8x optical zoom – get your subjects closer
Optical Steady shot image stabilisation – great for shaky hands, don't rely on this too much
Beautiful Effects – retouch photos on the fly
Fast Autofocus – no wasting time to capture the great photograph
This particular feature has been highlighted as the one which can never be introduced in a smartphone. Here is a screen shot of the description of the camera on Sony Website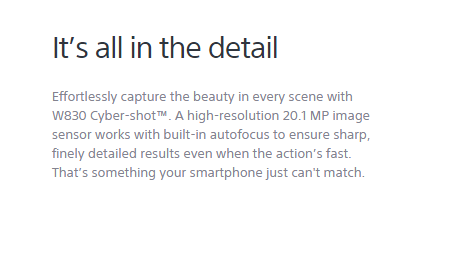 Flipkart – 4.3 out of 5 stars by 135 raters and 31 reviews
Amazon – 4.1 out of 5 stars by 593 reviews
All above stats as on March 27, 2016.
What are customers saying
Most customers are happy with the image quality and the features offered by the camera. As most of the customers are going to use it in auto mode, this part works fairly good. Video quality at night is not that great. Users have also found the price to be sweet and the goodies offered by the seller, SD Card, pouch, batteries and so on. But do check with the seller as to what they are offering as the offers keep changing.