Google always had a footprint in WordPress in the form of an official plugins. Plugins by Google have been mostly choppy at the best. While the basic design and functionality were spot on, it was the ease of use that was always the problem. Previous plugins by Google were rated below four stars. This one is also getting the brunt of negative reviews. But at the same time, Site Kit is the best WordPress plugin from the stable by Google till date.
Google's official WordPress plugin
Earlier plugin versions were focused on AdSense. This time they decided that lets include a few more products which bloggers and webmasters are already using on their websites. This is a no brainer and out of this was born the Google's official WordPress plugin. This plugin gives access to four main Goggle products.
Search Console – This product is used to measure you website Google search traffic and performance.
Google Analytics – This is a freemium software which gives a detailed analysis of how users or visitors reach your website and how they engage with your content.
Google AdSense – The world's top and the most favorite contextual advertising network.
PageSpeed Insights – Google now is serious about quality of content delivered across all devices and improved viewer experience to mobile devices. This product suggests ways to make your website faster.
Installing and Using Site Kit
The Site Kit plugin is available in the WordPress repository.
If need arises, you can visit the official page and check the necessary instructions.
https://sitekit.withgoogle.com/
After the plugin is activated, you can go to the dashboard and the plugin prompts you to connect with your google account to begin installation. It takes a total of three steps to connect to each of the product listed above. Authentication is done by Google for your account. If search console or analytics account is not present, it will prompt you to create one. Once the connections are made, the confirmation is displayed in the dashboard and stats start showing in neat blocks.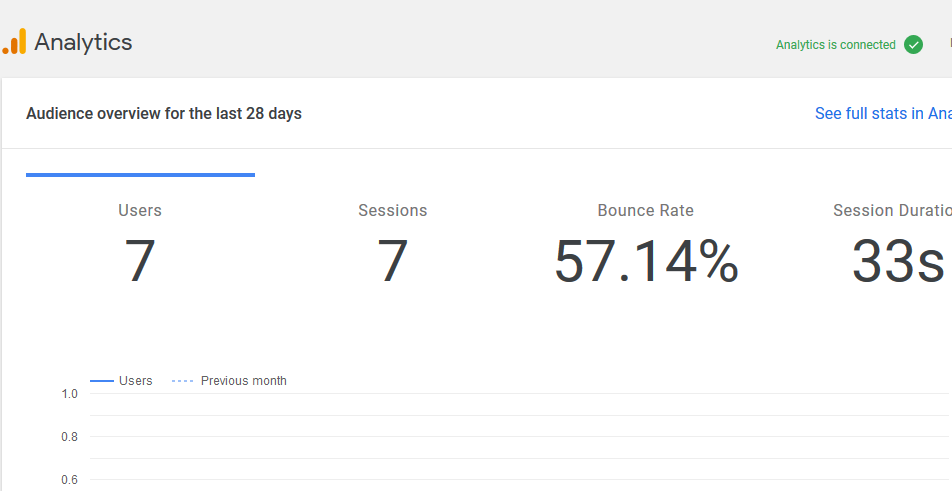 Advantages of using the plugin
Site Kit plugin pulls up lots of information from the respective products and displays it in the form of neat blocks. Google has put in a lot of effort to shortlist that vital information which a blogger or webmaster needs to see in three pages. Each block has a link to access more information. Of course for the detailed report you can still go to the main console.
Functionality wise the plugin doesn't do anything much except for pulling up data. The installation process itself is worth it. Because it connects with the services and inserts the necessary codes wherever required. Good bye multiple plugins to handle Google products.
A successful linkup means that your website is properly connected with all the four services. If previously accounts were created, it allows automatic connections as required. This is also a good way to check if your main accounts are active.
The main grip of users of this plugin is that connection is not successful. I have installed this plugin on 8 WordPress websites till date and have not faced problem in any installation. Just open your usual browser. Keep Analytics, search console and adsense opened in three tabs and log in the Google account. This will ensure, the linkup process succeeds. One more plus about this plugin is that it pulls up data only on demand. Which means only when the admin is logged in, the plugin starts pulling in data and that too only after the plugin dashboard is opened. This saves unnecessary overload of data and process. Installing this plugin is highly recommended.