Sony Ericsson Live with Walkman (WT19i) was a popular Android Smartphone handset by Sony and was one of the last of the beautiful gadget made in collaboration with Ericsson. Its one click walkman button and some funky music output made it popular with the younger generation.
In this tutorial we shall list out the links for resources for rooting Sony Ericsson Live with Walkman (WT19i) and flashing it with some custom ROMS.
We start with the factory reset Android 2.3.4 stock OS. Absolutely no apps installed except the play store updated.
Step 1 Installation of ROM Manager by ClockworkMod
Search for the app in Play Store or use the URL below
https://play.google.com/store/apps/details?id=com.koushikdutta.rommanager&hl=en
Of course at this point of time, the phone is not rooted, so ROM manager is not of any use.
Step 2 Prepare the phone for root access
Enable Installation of apps from Unknown sources and USB debugging.
Both options are available in Application Settings.
The moment the handset is connected to a PC, the installation of PC Companion begins. This can be skipped as we just want the drivers to be installed so that the phone is detected by the PC.
Step 3 Install the eroot software
eRoot is a single click tool to root Sony Ericsson Live. It can be downloaded from the following URL.
http://www.mediafire.com/download/fazhxvwrgv8p301/eroot_v1.3.4.exe
Please note this is an old handset and the rooting tool might be taken off from MediaFire servers sometime in the future.
Run eRoot with the phone connected to the PC. The tool will detect the handset and you can begin the root process by clicking on the root button. The software will run automatically and provide a confirmation at the successful completion of rooting.
Use a root checker app from the play store to confirm root access.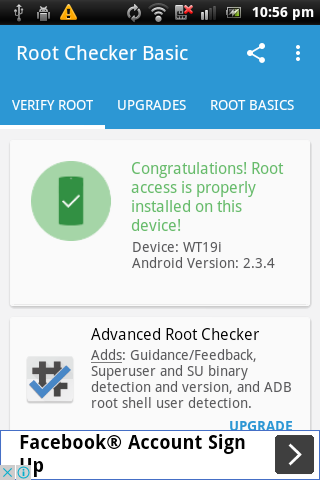 The following links were used to prepare this article
http://forum.xda-developers.com/showthread.php?t=2219781
http://www.androidrootguide.com/2014/10/root-sony-ericsson-live-walkman-wt19i.html
Installation of Custom ROMs
Google search is the best option to hunt for custom ROMs. But the original source is XDA Developers.
http://forum.xda-developers.com/
We shall use the following ROMs for the purpose of this article.
The official ROM upgraded to Android 4.0.4
http://forum.xda-developers.com/showthread.php?t=1837398]
The file is in FTF format. To use it, one must use the Flash Tool available at the following link
http://forum.xda-developers.com/showthread.php?t=2054486
Another popular modified ROM
http://forum.xda-developers.com/showthread.php?t=1899892&highlight=hyperbeam+cream]
Copy the ZIP file to SD Card. Boot into recovery mode. Use the option install from ZIP and reboot. Wipe all cache before installation. Backup your data if any before flashing.