Large screen smartphones are now the rage but even with the best of technology, your battery might last for about a day. And all those on the move will agree that by the time the day draws to a close we are looking for a power outlet. Battery tech has remained primitive compared to the processors and ram which is galloping to new heights. Power Banks in such a case becomes an essential saviour.
Please Note: This article contains affiliate links.
Review of the two best selling Power Banks
Date of Review – 15 March 2016
Power Banks covered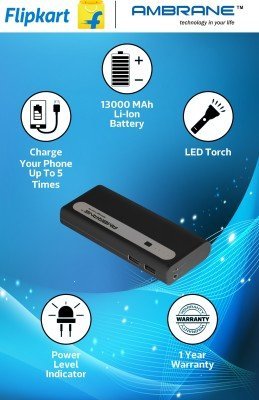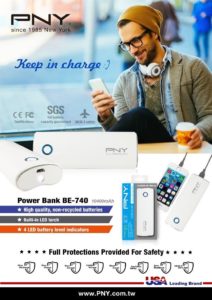 Reviews and Ratings
At the time of writing, both the Power Banks had the following stats
Ambrane P-1310 13000 mAh
3.8 stars out of 5 rated by 5609 customers. Total 1275 reviews by customers on Flipkart.
PNY BE-740 10400mAH
4.1 stars out of 5 rated by 4,993 customers on Amazon
Description and Facilities.
Both Power Banks have an LED indication system and LED torch. Both these are extremely handy. Both also have the basic charging and discharging functions and circuity as required by a good quality power bank. Both are required to be charged by a 2.1 A charger. This is again a critical part. Both are heavy in weight due to the capacity of the battery it contains and both have enough juice to charge a 5 inch smartphone four times over.
PNY BE-740 has just one USB port which is rated at 2.1 Amps, while Ambrane P-1310 has two USB ports, one rated at 1 Amp and the other at 2.1 Amp. Ambrane P-1310 also has a higher rating battery and is also lower in cost. Build quality of PNY is a little better than Ambrane.
Note for Power Banks.
As with battery tech goes, there are a few things which have to be kept in mind.
Firstly, charge battery in the open. No closed spaces, no charging in purse. Let the battery breathe and let the heat out, else you risk an explosion.
Use a good quality charger, and rating have to be the manufacturer's specifications, else you will end up not charging the battery at all. This hold good for all batteries.
Use a good quality of cable, for both charging the gadget and the Power Bank. Use a cable of correct length.
When charging for the first time, allow the battery to charge at least 95% of its full capacity. Then let it discharge to about 10%. Repeat this many times over and then you will get the max life out of a battery. An improperly charged battery at the start will have a reduced life and will never give you full performance.
User Reviews.
User reviews have been largely positive for both. Negative reviews have been improper packing and damage to the Power Bank. A few users have reported the explosion of Power Bank also. The biggest problem seems to be the Power Bank not performing optimally. This can be attributed to a faulty product or improper charging for the first time.
Conclusion.
A Power Bank is an essential companion for all of us on the move. Both these Power Banks featured in this article will bail you out in those tricky situations where you are running around for a power outlet in the middle of an important assignment.