As per the Govt of India mandate, it is now obligatory for Govt Depts to provide online services. It's a wonder in itself that most of these online facilities are actually working for the benefit of both the Govt as well as the common people.
In this article we will look at the two prominent utility services and their online payment options. A common feature offered by all of them is that one can make payments without login. This is particularly useful with tenants who can make payments based only on a particular reference number. Receipts are generated online as a soft copy. These can be then forwarded to the owner again on email. This itself will save tons of papers. Also using the login facility, the owner can always check the status of payments.
Maharashtra State Electricity Distribution Co. Ltd.
Go to the following URL
As is with Govt website, this one too is exhaustive and loaded with tons of options and info. Take time to go through each link and option. On the right sidebar you can also see an android app which should be interesting and will be reviewed subsequently.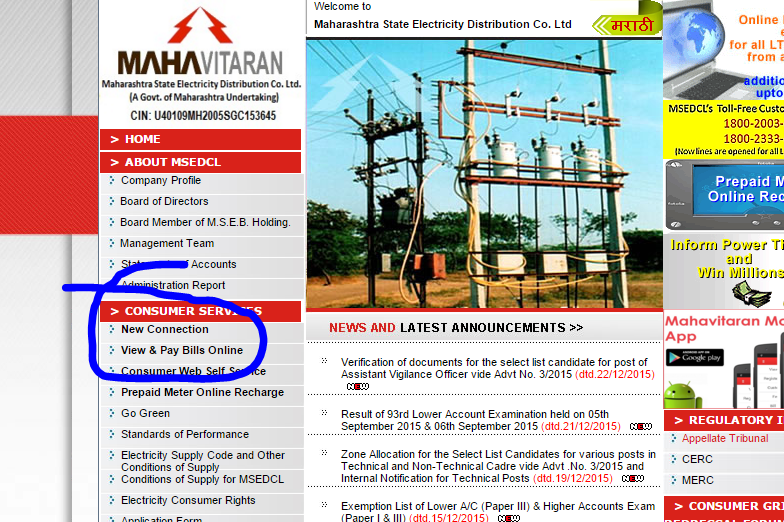 We shall straight way go to the link on the left side bar which says "View and Pay Bills Online" under Customer Services.
Click on the link and it will take you to another windows which is HTTPS enabled.
https://wss.mahadiscom.in/wss/wss
On the left sidebar, click on the View/Pay Bill link as shown and it will take you to the View Bill window.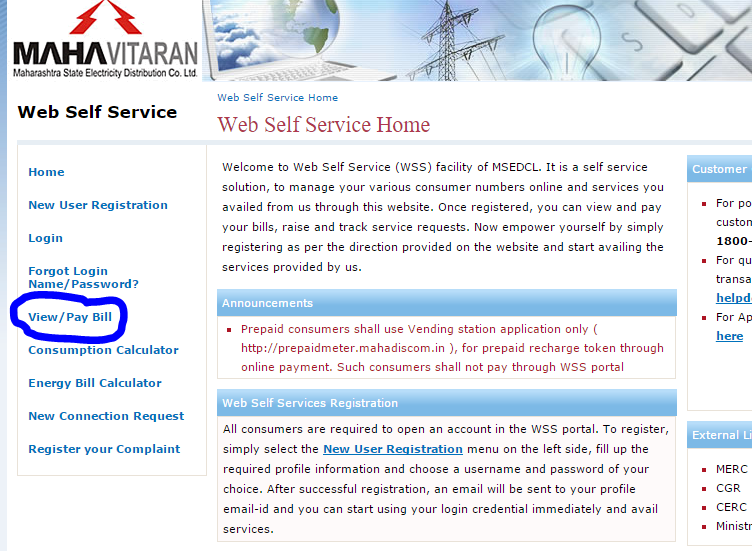 You will need two important details for proceeding from here. One is your 12 Digit consumer number and the other is BU or Billing Unit or your sub division where you first registered for a new connection for the first time.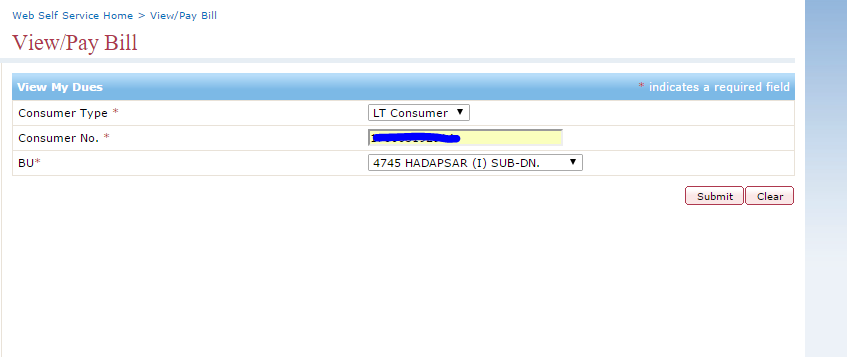 Once entered the details, click submit.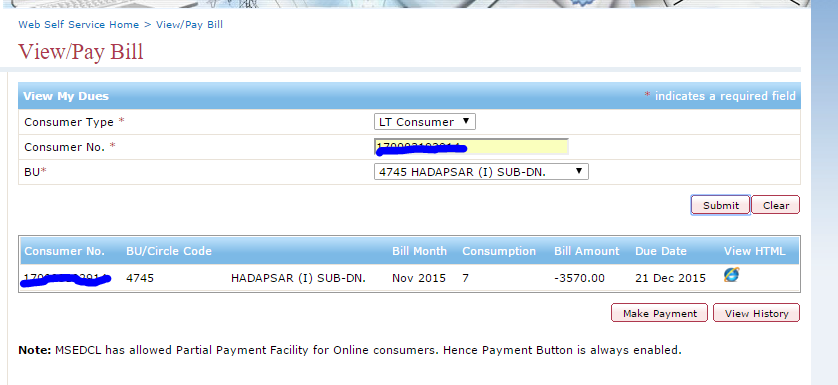 Customer details are shown next. Note that since partial and advanced payment options is available, the link of make payment is always enabled.
Click on View HTML link on the left side to see a copy of your present bill. Click on Pay Now takes you to the summary and then to the payment options.
One can also view the history of payments. In history one can also view the Consumption Pattern and Billing Graph.
It is recommended to keep soft copies of each transaction and payment receipt.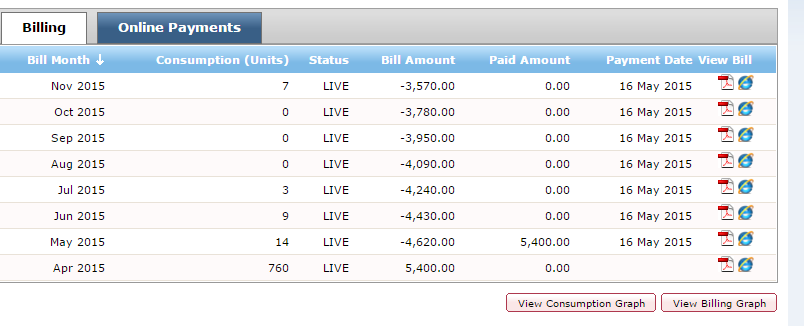 BSES Delhi
Go to the following URL
http://www.bsesdelhi.com/HTML/index.html
Under Payment Option, click on Instant Payment, as shown below.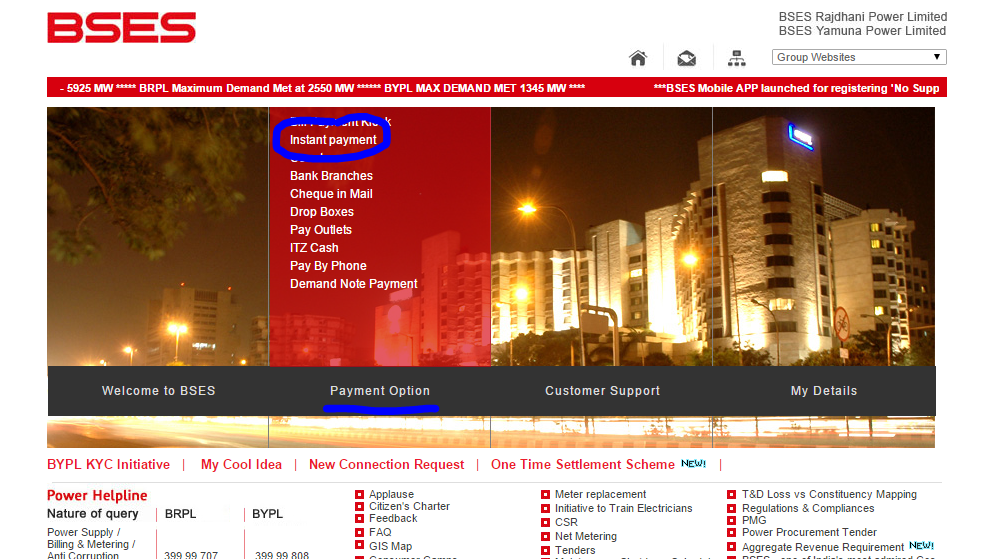 You will be taken to the next page of instructions with the pay button at the end.
Enter the 9 digit CA Number in the space provided and click Go.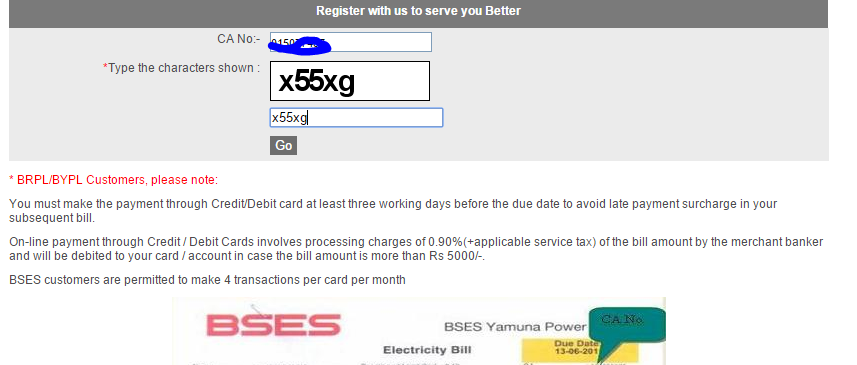 The next page will take you to the summary of the current bill with details like name of customer, due amount and due date with the payment amount and payment link.
This too covers all major payment options.
Most of the online payment for utilities largely follow the same steps and have placed a nice and convenient way to make payments for customers.