Please Note: This article contains affiliate links.
A colleague requested to narrow down some choices for a general purpose notebook. While discussing various options with him, I realised that this is the most active segment in the notebook market sought after by a majority customers.
Here is the list of requirements as brought out by the colleague.
Basic 15 inch Notebook
Non Touch Screen
Basic Office work and Internet Usage
Two to Three hours Daily Usage….maybe
A suggestion for purchasing a Mac Book was straightway turned down. Reason given is that I do not want to buy features which I will not be using. And that too, these words coming from an iPhone owner.
Options available.
Every brand worth its salt is vying for a toehold in this segment. Till sometime back Dell was dominating this segment hands down with its Rs 30,000/- offering. But now with Dell having executed its own downfall, this space is wide open for the taking.
The choice between Intel Processor or AMD Processor is like comparing oranges with apples. But you need to seriously check out the Accelerated Processing Units (APU) of AMD which has redefined the definition of a low cost notebook. APUs as we all know is a Processor and a Graphics Chip integrated on a single chip thereby giving great performances at a very low price and power consumption.
The launch of Intel Atom processor has taken the low power processor to a new level altogether. However by sure that performance will be severely limited. These notebooks hold good only for surfing the internet and document editing.
The Winners
Small Screen Basic
Asus EeeBook X205TA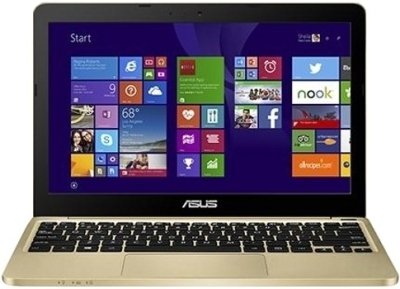 This notebook is powered by the Intel Atom Quad Core processor. It has 2 GB DDR3 RAM and 32GB flash hard disk. This kind of hard disk does not have any moving parts. A traditional hard disk drive has a spinning disk though high on performance is a major battery consumer, hence the need to shift to a flash storage based hard disk.
The notebook is pre installed with Windows OS 8.1. Now assuming that it is upgradeable to Win 10 free of cost, I would take that with a bit of caution as upgrades are known to be choppy. Make an informed decision on the same.
Other important features of this notebook is that it is light weight, very light weight. It also has a SD Card slot which enhances the somewhat limited internal storage. It has a fanless design, again with the intention of reducing moving parts to a zero. Plus the processor itself gives out very less heat. With all this configuration and design, the notebook is able to give you about 10 to 12 hours of usage in a single charge which is awesome deal for those on the move.
Also make a note that this is a 11.6 inch screen size. That is typically not the size which we are comfortable with, but its the limitation of Intel Atom processor based notebooks. A small screen means more battery life.
Another downer is the USB 2.o ports.
This notebook has been rated by users on Flipkart as 4.3 out of 5 by about 800 plus users. That scores very high on the popularity scale.(Figures as on Nov 2015) Most of the users have rated high the portability factor and the long battery life. Some users have reported playing games which are light on graphics, but again remember this notebook is designed to work on Office files and internet surfing.
Standard Size Winner
HP 15-af114AU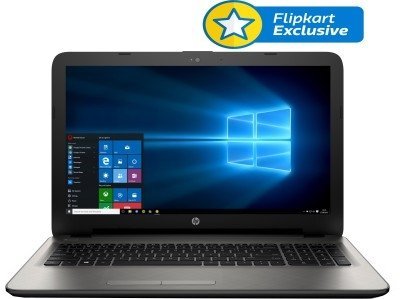 It is admirable that HP has come out with this masterpiece and decided to use an AMD processor to power it. It fits the bill for a true basic 15 inch notebook. And to top it all, it has broken the 30k price barrier in place for a long time. This one will cost a couple of thousand less.
The notebook is powered by AMD APU quad core processor. It has 4GB DDR 3 RAM and 1 TB Hard Disk Drive. It is preloaded with Win 10 (64 Bit). It has USB 3.0 and 2.0 ports as well and has a HDMI out. It has a SD Card reader, WIFI and Bluetooth. It has a optical drive too.
In all this notebook has all the features that one might look at towards a sub 30k basic option.  This notebook has got 4.1 stars out of 5 by about 250 plus users (as on Nov 2015). Users have praised its all round performance. 
The only caution I would suggest is that this notebook is not listed on the HP website for sale. But as has been seen in the past, HP releases far too many models which differ from country to country to create enough confusion world wide. The good part though is that most changes are cosmetic in nature.