Direction from the Supreme Court regarding linking of Aadhaar with PAN have ruled in favor of the Govt of India. There was a rush of linking the two cards online. The deadline actually meant that from 1st July onwards, any new Aadhaar card with is not linked with Pan Number will render the PAN invalid. Or any other penalties as decided by the govt. GST implementation is now the centerstage for the govt. It will however at a later date make it compulsory. In this article, we shall see how to use the fast way to link the two. And also some remedial measures if things dont go smoothly.
Here is the news regarding the notification.
http://share.soonev.com/download-govt-of-india-notification-aadhaar-pan-linking-must-from-1st-july/
URL to link Aadhaar with PAN
https://incometaxindiaefiling.gov.in/e-Filing/Services/LinkAadhaarHome.html
The webpage provided at this link enables you to link Aadhaar with PAN without any login in just a two steps.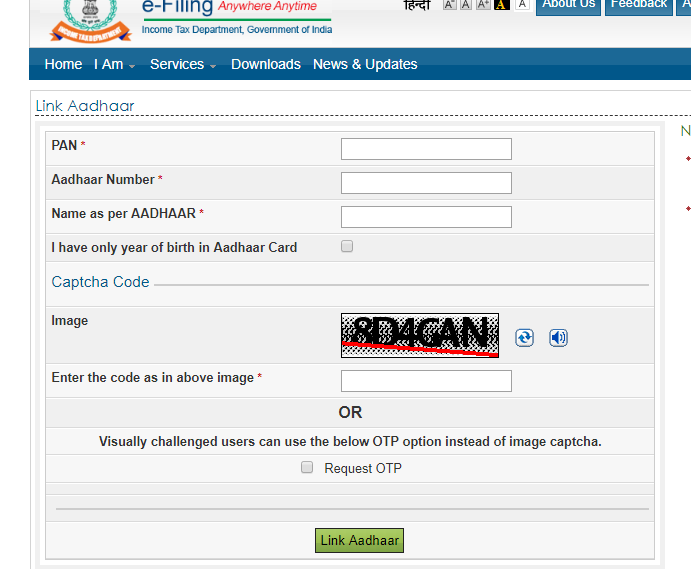 All fields marked with red star are compulsory. Following fields are required.
PAN Number – The PAN Number as shown on your PAN card. It is a mix of alphabets and numbers. 10 in all.
Aadhaar Number – All digits only. Dashes will be added automatically.
Name as per Aadhaar Card – Exact name is required as the details are going to be pulled up from UIDAI servers.
Option to tick – If only your year of birth is given on Aadhaar card.
Captcha Code – Case Sensitive. OTP option also available.
Once done, click on Link Aadhaar button given at the end. Successful linking should give this prompt.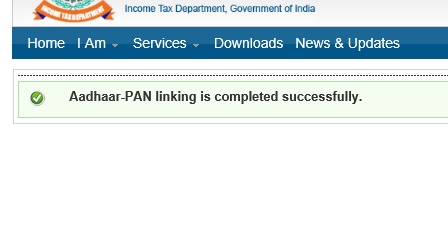 There is heavy rush of users trying to link Aadhaar with PAN. Technology can never catch up if there is a rush in India. There is a good chance that you might get this error.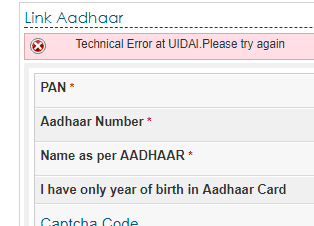 If there is an error when you link Aadhaar with PAN, do the following.
Use Internet Explorer as your web browser for Aadhar-PAN linking.
Try repeated times. Each time using a different captcha ofcourse.
Also note it is better to try off office hours where there will be considerably less load on the servers.