A new WordPress site needs the help of a handful of plugins to turbocharge the reach in the world of blogging and internet. These plugins are feature packed and they will take your site to the next level. With a simple plan and the plugins in place, your blog is ready to accept content. Essential WordPress Plugins for a new WordPress site are JetPack, a cache plugin and and SEO plugin.
Earlier we had seen how to set the settings on a new WordPress site.
Essential WordPress Plugins
Jetpack by WordPress.com
Jetpack is a plugin from the developers of WordPress which gives you the features of WordPress.com to your WordPress site. It is one of the best developed plugin and is constantly updated with new features. Among the tons of features provided by this plugin, the most important one is the connection with your WordPress.com account and link up with hundreds and thousands of users of WordPress. Unlike what most think, WordPress is a social networking platform and hence Jetpack becomes the top most of Essential WordPress Plugins.
Here we have already created an account with WordPress and will just be linking it up with WordPress.com
After installing and activating the plugin, it straight way asks for a connection with WordPress.

Connection is only done if authorised. In this case we had already logged in the WordPress.com account and hence it directly went to approval. In all other cases it even asks you to create a new account. Remember to activate each module of Jetpack as on required basis and shut the others.
A successful install shows your site stats on WordPress.com
Cache Plugin
Any cache plugin of your liking. W3 Total Cache is a powerful plugin with a lot of features, but it can be a little daunting for beginners. As it is, if you are looking at a basic option, there too WordPress comes to your rescue.
WP Super Cache is good enough for your basic needs. It generate static html files which will reduce load on the web server. After installation and activation, the plugin needs to be switched on. Once that is done, the default settings should work for all the users. Make sure to read the help file to changing certain settings.
Final and the most important plugin is the SEO Plugin. But prior to installation of this plugin, you need to do a few important steps.
Finalise all settings for your theme.
Plan and arrange your categories and menu structure.
Keep your site empty if possible.
Logos and icons wherever required should be in place.
All social links to be kept ready
SEO Plugin
While there are lots of options available, I would strongly suggest stick to one after doing your own research. Most SEO Plugins work in a similar manner. We will be using Yoast SEO plugin for the purpose of this article.
Also get the Google Webmaster Tools or Google Search Console (as it is now know) ready side by side as both have got a few common settings.
After installing Yoast SEO Plugin, login to your Google Search Console and add your website as a property. Also see the list of actions as recommended by the search console.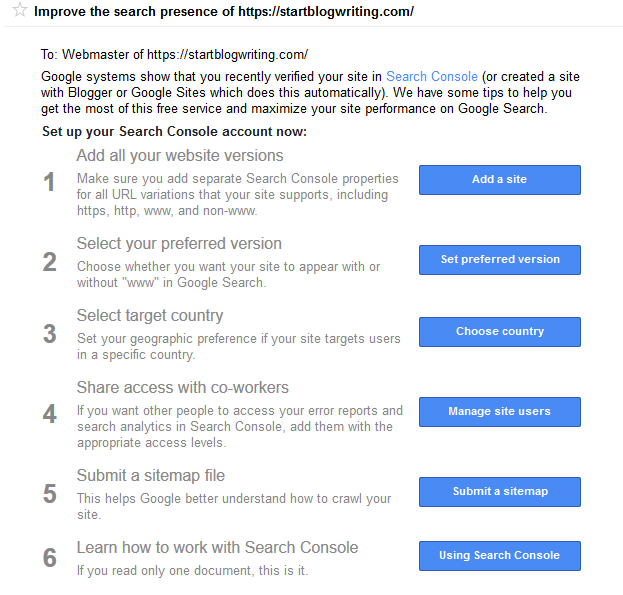 Verification of your website as a property in Search Console is done automatically by Yoast SEO. The verification tag generated has to be entered in Webmaster Tools verification and you are done.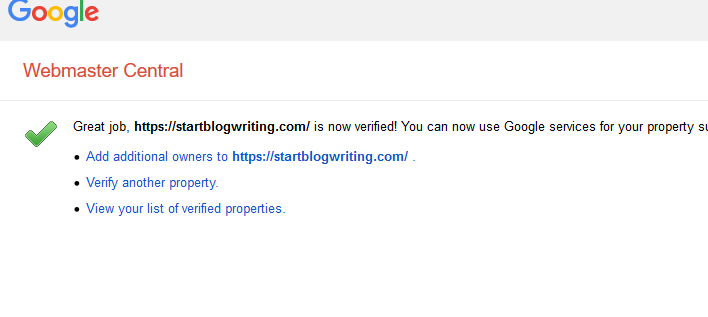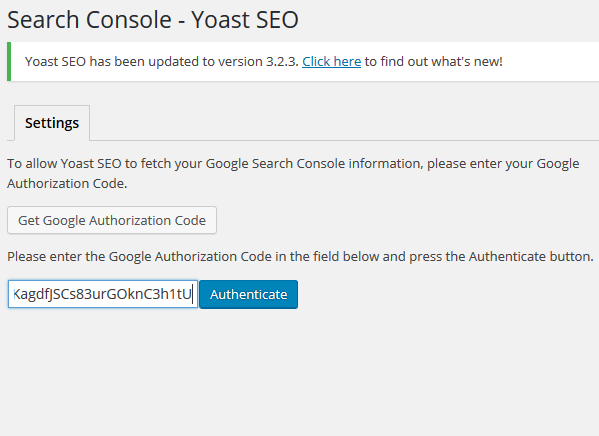 Also get the search console integration completed to enable data to be imported in your SEO dashboard.
Next submit a sitemap to Google. It usually takes some time for Google crawlers to reach and scan your website. So the foremost thing to be done is submit a sitemap which is the best way to invite Google to crawl your website. This should not be delayed. Sitemap functionality is default enabled in Yoast SEO. You just need to submit the sitemap to Google Search Console.

You can either test the sitemap or straightway add it. For testing purpose it provides you with the test results.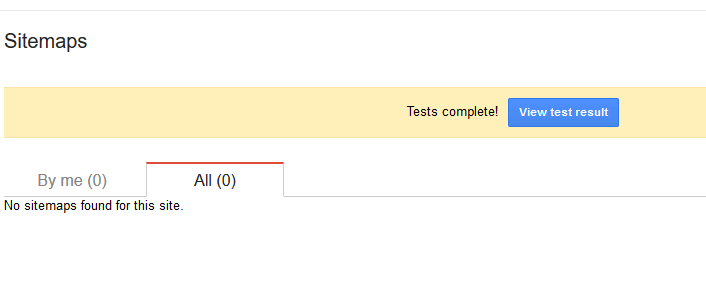 The typical sitemap URL generated by Yoast SEO looks something like this
https://startblogwriting.com/sitemap_index.xml
Titles and Metas
Titles and Metas ensure that your website is shown in a certain format in Google search results. Here is what has been entered in the Yoast settings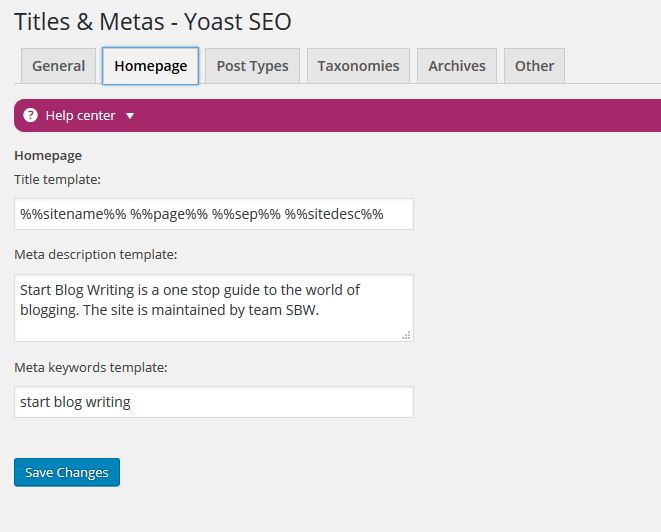 And when you use a meta tag analyser here is what it shows

So if your site is going to be shown on Google search results, this is how it is going to look which is why it is very important that Site Title and Site Meta Description is very important.
Read more about this here
Do not forget to input setting for Socials and Advanced settings. Watch and set each of them carefully.
Conclusion
This completes the Essential WordPress Plugins for a new website. This list is nowhere is complete and rigid. Use your own judgement and research to arrive at your own sweet list.