Google Cloud Print is a service provided by Google Inc. This allows you to wireless print anything over the cloud. To use this service, one needs to download the Google Cloud Print app. You can use your favourite browser to access this service. To print a document, the user has to access the context menu in any document on the phone. This is a great help to users who want to print documents directly from their mobile phones.
Types of printers
Wireless printers are easily available in the market. If your requirement is primarily wireless printing, then you are better off with a cloud printer. These printers have their own dedicated app for printing through mobiles. But the problem arises in case the printer does not have WiFi capabilities. Users then need to junk their old printers. Here is where Google Cloud Print comes to rescue. And if your wireless printer has a not so feature filled app provided by the manufacturer. You again have Google Cloud Print to the rescue.
A non wireless printer can be converted to wireless by plugging in the USB cable of the printer directly to the USB port of the WiFi router. It then shows up as a network printer. And when the router is connected to the internet it becomes a cloud printer.
What is a cloud printer
One might find the term 'Cloud Printer' a little HiFi, but is a simple concept. In case of a wireless printer, a print command is given over the WiFi signal from any device connected wirelessly to the same network or connected through a network cable. Such an arrangement can work even without an internet connection. But when the print command is send over the internet to a connected printer, it is then called a cloud printer. Cloud printer does not even need to be connected to a PC or Laptop. It can connect directly to a WiFi router and accept print commands from anywhere using the corresponding app. But all this is still ok with the latest printers. There are times when all these options don't really work because of some issue or the other. It is then when we have to take the help of Google Cloud Print.
Google Cloud Print
Google Cloud Print is rather a service than an app. It is designed to work as a stand alone app and a replacement for your default printer app. Google Cloud Print app will work seamless with your Android OS. Any or all future updates will be compatible with each version of OS. This even includes backward compatibility. Here is a link to the app on Google Play Store.
https://play.google.com/store/apps/details?id=com.google.android.apps.cloudprint&hl=en
This app has practically limitless possibilities. Setting it up Google Cloud Print on a desktop can only be done by Chrome Browser. The service is named as Google Cloud Print while the app is named as Cloud Print. You will also need a Google account for setting up the whole thing.
Cloud Print app is primarily for printing of a document from any Android Tablet or mobile. It offers printing to Cloud Enabled printers marked as v 1.0 and v 2.0. But this app also works best with non-cloud ready printers too. In this article we shall explore the steps for setting up an non cloud enabled printer to work with Google Cloud Print.
Setting up the printer and desktop for Google Cloud Print
Connect the printer to a USB port and switch on the printer and PC. PC can be connected to the router either with a LAN cable and RJ 45 port or wirelessly. The printer will be automatically detected at the USB port. The Windows OS will search for the required drivers. Mostly the drivers will be picked up from within the OS and installed. You should be able to take a print out within minutes. But instead of allowing the OS to detect the printer through the USB port, we shall install it as a network printer.
In the control panel or through network setting chose the option Add Printer. This will give us two choices as follows.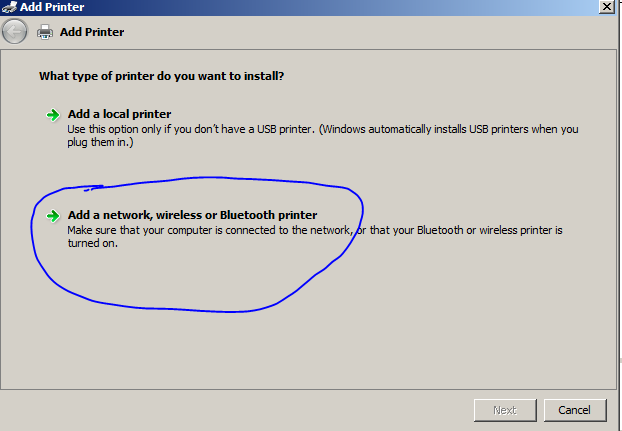 The point to remember here is that even though the printer is actually connected with a USB cable, we shall still install it as a network printer.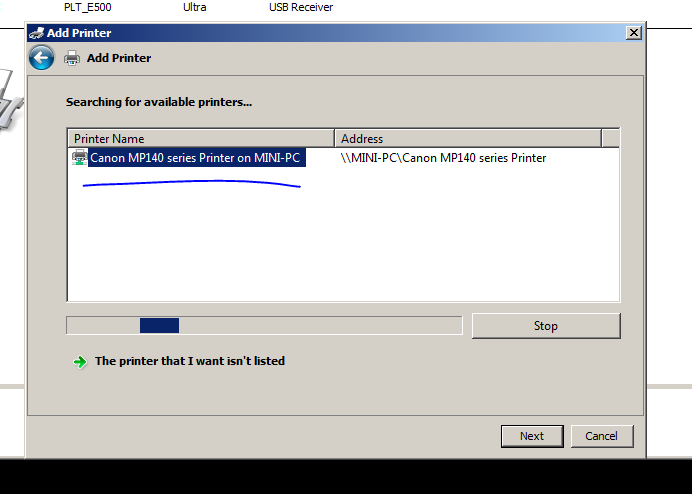 After the printer is visible and listed, the search can be stopped. Just note how the path of the printer is shown as a network printer even though it is connected by a USB cable.
There is also an option to rename the printer.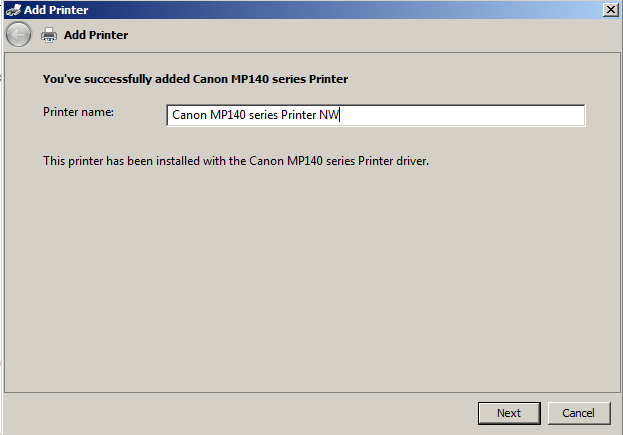 And finally when adding is done, we get the following prompt.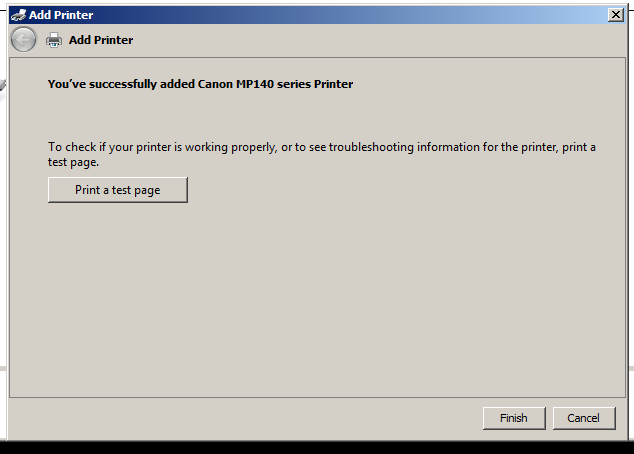 Settings for Google Cloud Print
Google Chrome is required to setup Google Cloud Print. In the Chrome address bar type the following.
chrome://devices
This will open an interface which looks like this.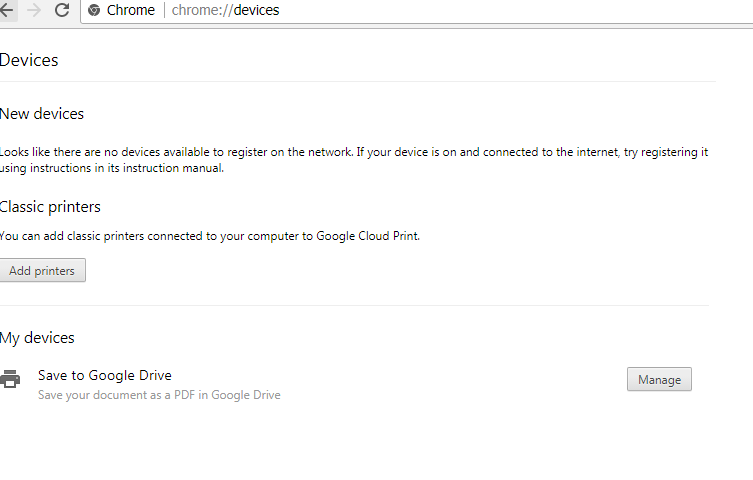 Under My Devices, option for Save to Google Drive is by default. If you have logged in a Google Account in Chrome, the file will go to your Google Drive account.
Click on Add printers to add Classic printers to chrome. By Classic printers it means, the printers which are not cloud enabled. On clicking the add printer button, the Google cloud print interface opens. You can then use the options to add a printer.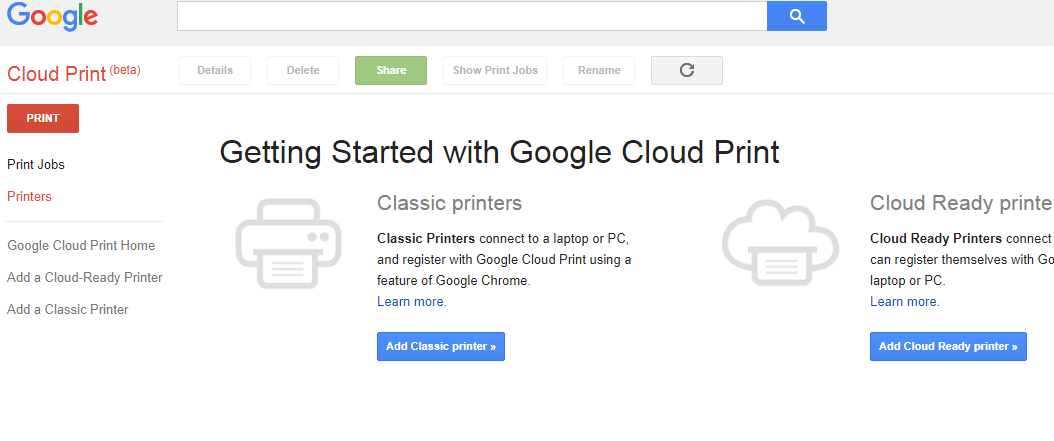 This option can be accessed directly with Google Cloud Print webpage. The connected printer is shown as classic printer with some confusing text.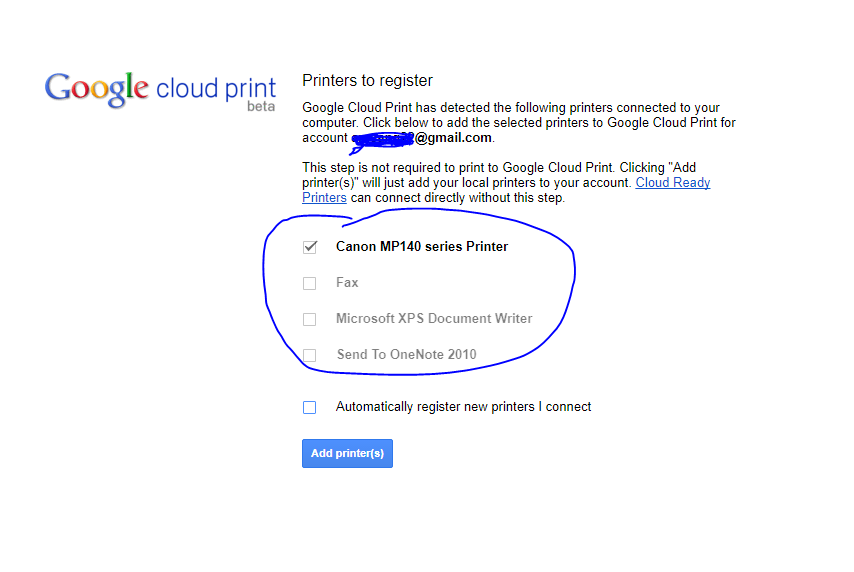 Here is the part where Google Cloud Print starts scaring and confusing users. What could have been a fabulous cloud printing option is now reduced to something to chance. What one assumes that after adding printers, they will show up in Cloud Print app.
Once the process of adding printer is complete, then it shows up like this.
After this step, the printer can be given a print command from any page on chrome.
Using the Cloud Print Android App
The true potential of this service is sending a print command from an Android Phone. For that we need to download the Cloud Print app from the Google Play Store.
https://play.google.com/store/apps/details?id=com.google.android.apps.cloudprint&hl=en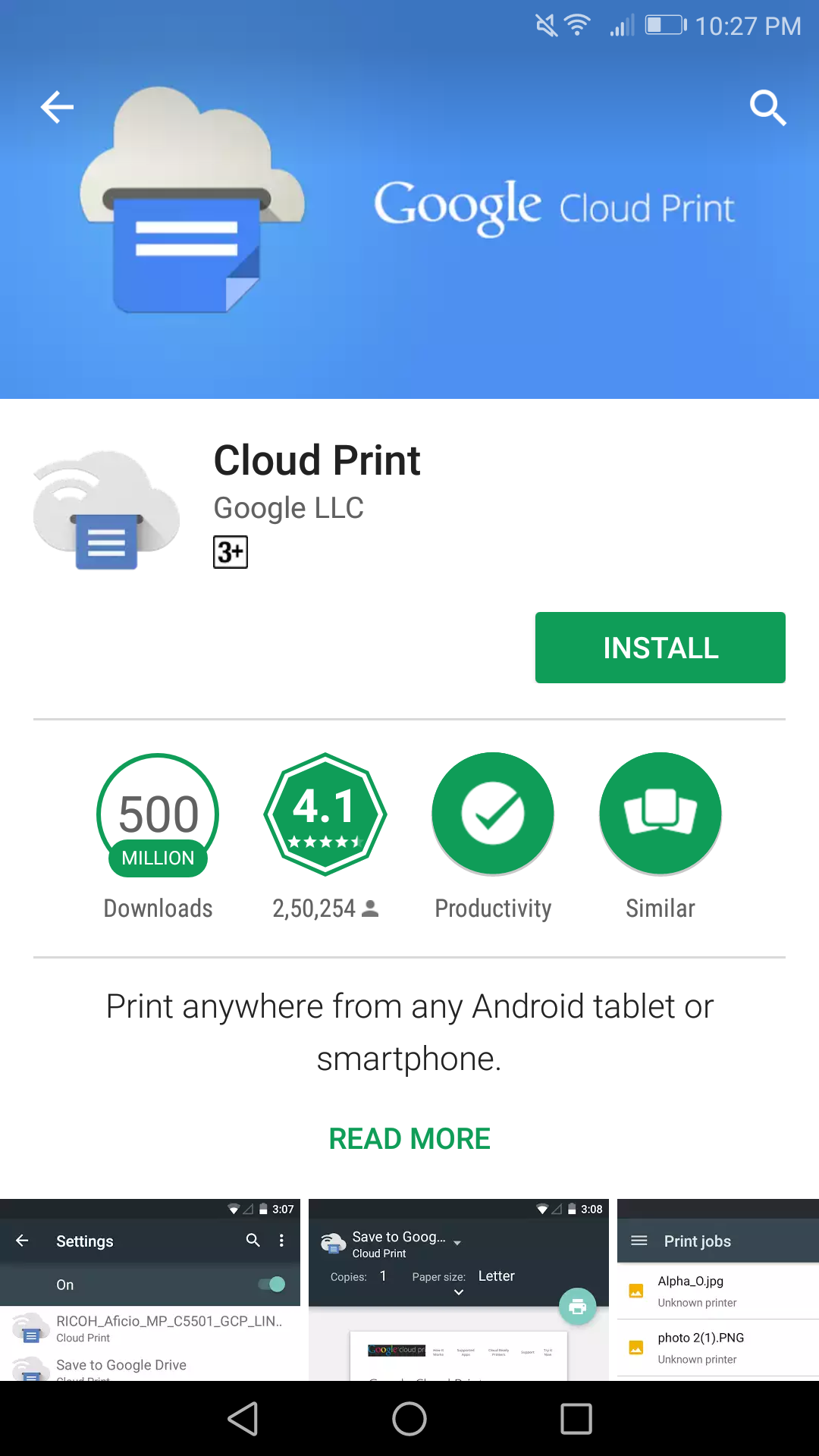 Once this app is installed any document or picture or any webpage can be given a print command by long press of the touch screen to open the context menu. There you will find the print option to send a document to the newly added printer. It also provides a facility to print any part from Android Chrome.