A high resolution screen shot of the Windows Desktop sometimes becomes a very important requirement. While there are many software out there to help you out, this article will focus on the inbuilt Windows Tool called Snipping Tool. Microsoft has introduced the Sniping tool since Windows Vista. It is available only in the Home Premium, Professional and Ultimate editions of Windows 7 and all versions of Windows 8 and Windows Server.
Before that, we need to check and enable Clear Type. This feature enables one to see the fonts properly on a LCD screen, common nowadays. Go to Control Panel–Appearance and Personalisation–Display. Click on Adjust Clear Type.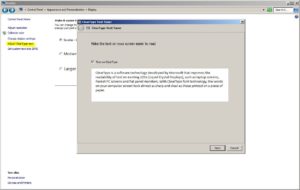 This will open the Clear Type Text Tuner. Select Turn on Clear Type. Click on Next. Follow the steps to select which font is best suited for your viewing.
Also, ensure that the monitor is displaying the screen at native resolution and that your display drivers are up to date.
Using the Snipping Tool
Open the Snipping Tool from Start–All Programs–Accessories or just type Snipping Tool in the search box (best option for Windows 8).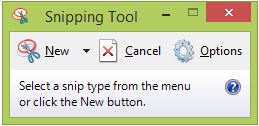 Click the down arrow button next to New. It shows the following options
Free form Snip: To draw any shape on screen.
Rectangular Snip: To draw a box on screen.
Window Snip: To select any window or the desktop.
Full Screen Snip: To take a screen shot.
Once the default is selected, whenever you click on new, the behaviour will be repeated till it is changed again.
After selecting the image, the Snipping Tool Main Window automatically opens up to allow you to further carry out changes to the captured screen shot. The main options are as follows.
Save As: JPG, PNG, GIF and Single file HTML.
Send To: Email recipient or as an attachment.
Copy: To the Clipboard.
Pen: To draw/write with different colours.
Highlighter: In Yellow bold.
Eraser: To clear the pen and highlighter data.
Here is a screen shot of the main interface after the image is grabbed.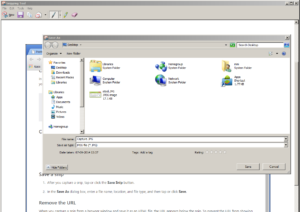 Which screen capture software do you use? Is there an option to capture screen shot with stunning colours at the cost of image size and data. Let us know in comments.