Belarc Advisor by Belarc Inc is a free tool to Audit a Windows PC. It provides you with tons of useful info focusing mainly on security audit and hence a useful tool for Cyber Security. It provides with a status of updates, software, network inventory and hardware info.
Before we begin it is important to point out that this tool is free only for personal use. Which means it is prohibited to be used in a corporate, educational, military or government setup, as per the license agreement.
Belarc Advisor can be downloaded from the following URL.
http://www.belarc.com/free_download.html
It comes as an installable package in a single exe file. Belarc Advisor is installed as a program in the Windows PC. You will need Administrator Privileges to install, run and extract useful info from your PC.  It will install a desktop short cut to run the program. It displays the result in your default web browser.

Following Info is provided
Hardware Details along with respective serial numbers.
List of users along with their last login.
Devices installed and connected with ports.
Details of network adapters.
List of Product Licenses with serial numbers.
List of Installed software and MS Updates with their version.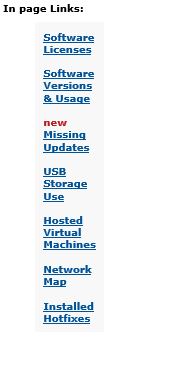 Some additional info which Belarc Advisor gives
Windows Key
When you purchase a licensed copy of Windows OS, a serial number is provided. This is also in the form of a sticker on your PC, if it is preloaded with the hardware. It is also there on the Jewel case containing the DVD. But all these things can get lost easily.
While the product ID is easily visible in the system info, the 25 digit alpha numeric Windows Key is hidden deep within the registry. The key can also be obtained from third party tools, but Belarc Advisor has this feature inbuilt.
USB Storage Use
In a single glance, the auditor can know which USB storage devices were used along with the dates of first and last use and the Device ID/serial no.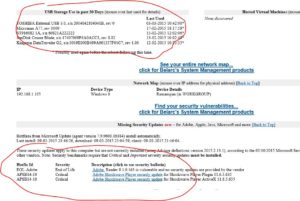 Status of Virus Protection
Details of antivirus installed and the latest update and whether it is out of date and the last time it was scanned. It will also show up multiple instances of antivirus software in the system, especially traces left behind by the previous versions/old software since uninstalled.
Read about the use of Belarc Advisor for such a situation here
https://soonev.com/solved-the-windows-8-repair-and-diagnosis-loop/
Network Details
Entire list of IP addresses used by the host PC for all the adapters.
Missing Security Updates
This is another killer feature which shows the Hotfixes of all major vendors and whether they are updated and latest.
License Management
All installed products and their serials at one place. It would have been convenient if it also showed the license expiry, but that would have been a pro feature. A nifty addition is the software last used. This will enable to weed out the software for which you are paying but rarely using. If you click on the name, it takes you to the location where the software is installed.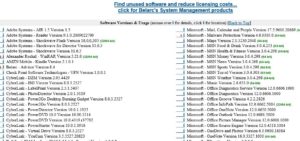 To sum up, Belarc Advisor is a very powerful audit tool. Drawbacks include that it installs on your system and there is no portable version available. Also it gives out the complete info only if installed as an administrator. Notwithstanding it's all aces.